Hi all , i have problem with the sweep and bend tools in TS 6 (modelside 7.61), i want to create the egg plant from the anim8or egg plant tutorial. here the link:
http://www.anim8or.com/learn/tutorials/ ... index.html
The first step it's ok for me i can create the first polygon with 5 sides:

but when i want extrude (sweep) the five faces to build the base, trueSpace extrude all faces in top of the object, and if i try to sweep only two faces for testing, trueSpace don't follow the normal face direction instead of i have the two faces extruded but merged in one direction, i know that i can extrude one by one the faces to make the base and quit all time the edit mode and select a new face, but it is possible to extrude the 5 faces in same time like in the screenshot here: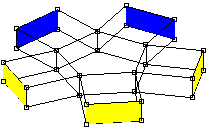 i can't make this in trueSpace or i can but only one by one face and quit edit mode select new face sweep, quit edit mode select face sweep etc...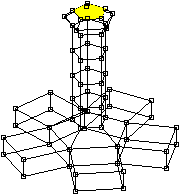 after some minutes i can make with success this part in trueSpace.
I jump some steps and want to bend the plant like in this screenshot below but i have problem.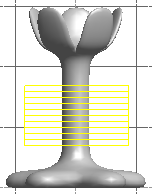 i can reproduce this selection face in trueSpace.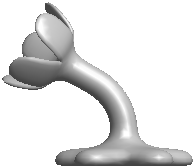 but in trueSpace the bend tool bend the whole object not the face selected. The result is a deformed object.
I know that in the workspace i can extrude with the dynamic sweep tool and with features like faces groups, average normal and auto alignement to make the base of the egg plant, but i want to create the egg plant only in trueSpace 6, i realize that the sweep tool is limited in tS 6 or i don t know the good way. All screenshots come from the tutorial. In fact i can't reproduce the anim8or tools 's steps with the truespace 6 tools to make the egg plant.